Adult Express Private Party
---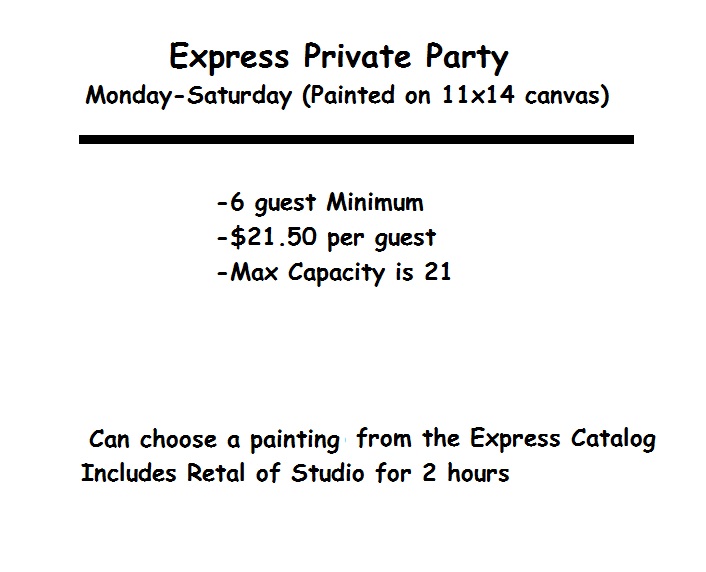 Express Private Party:
$21.50 a painter plus tax. There is a 6 person minimum. The minimum would be need to be paid to officially reserve your event-additional painters can pay online or the day of the event, if you desire. We have room for 21 painters.
With tax, the minimum comes out to $138.03
– 2 Hr Party
– 2 Hr music play list
– All art supplies (canvas, paints, brushes, etc)
– Rental of space and Artist teacher
– Painting of choice from catalogs
– 6 painting guest
– Table in back for any light snacks or cake (6 ft rectangle table)
(This is a nonrefundable deposit-But if you cancel in advanced, the full amount can be given back to you in the form of a credit towards a future class or to help reschedule the party)
-Additional painters are $21.50 per person, paid in advanced or the day of the event.
As part of your private party you can choose to create a 2 hour music playlist. We have access to a 35 million song catalog through our music subscription. You can give us a list of song and artist and we will gladly get the playlist together for your. Otherwise a house playlist will be selected during the event.
A 2 hour "Express Party" is painting the entire class. It is important that everyone comes early or at least on time, because we will need to start on time. Please note that our 2 hour private parties are at such a great price because we do not intend to go over the 2 hour mark-if your party starts late, or extra time is used for any reason you may be asked to pay an additional fee of $35. You may come come in 30 mins early to set up or decorate if desired.
Benefits
Select your painting of choice, only from Express Painting Catalog