Pricing
---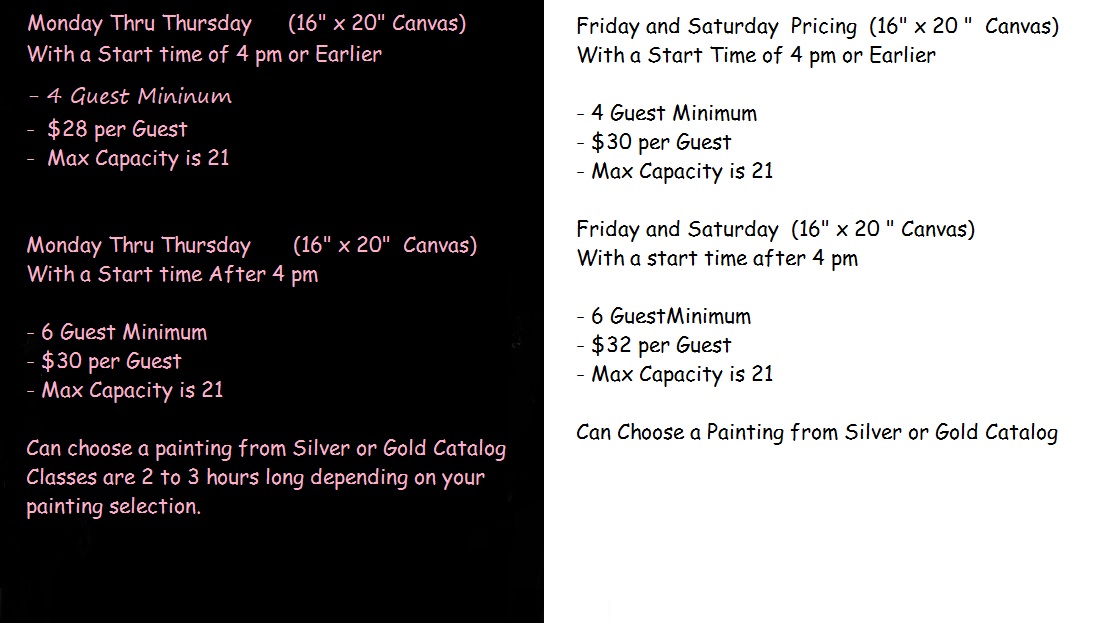 Pricing Info-Paint Along Studios
Adult Private Party
Make your Party (bridal shower, bachelorette, birthday, girls night out, team builder, or office party) a success with Paint Along Studios.  Absolutely NO EXPERIENCE needed.  Be an artist for the night.  Adult Private Parties can be 2 or 3 hours and provide a level of exclusivity and flexibility that a regular scheduled class does not.  All of your art materials are included.  If you need assistance selecting the right painting for your private event-we are glad to help.
We can even make your event one of a kind with our custom painting option.  We will gladly work with you to design a painting if you do not see something you like.  Ask about our custom painting option today. (sm nominal fee will apply.)
So get ready to have a great time and let us make the party planning easier for you.  Get your friends together for a great night of painting no matter the occasion.  Paint outside your normal plans and brush up some fun.   If you have any questions you can always call us at 863-409-5771 or email us with any questions at paintalongstudios@gmail.com
Adult Private Parties use a full size canvas 16 x 20″ only.  Feel free to select a painting of choice from either the Gold or Silver Painting Catalogs.
You must make a non-refundable deposit to make your  reservation official.  Remember, for simplicity, once you select your group size your price will be locked.  If you have a Group smaller then 5 guest you will be required  to make a full payment upfront.
Benefits
Bring in your favorite snack and beverage (set up area available in the back)
Art materials included (canvas, paint, brushes, aprons, and artist)
Ability to create a custom playlist filled with your favorite music. Access to over 35 million songs.
Pick your date with flexible times available.